Scented candles are a popular gift idea because they not only bring a warm and romantic ambiance to a room, but also help to relax. As a manufacturer of scented products, we are proud to present our scented candles, the perfect promotional gift idea.
Scented candles are an exquisite promotional gift, they can not only make customers feel pleasant aroma, but also bring them a unique experience. Our scented candles are made of high-quality natural materials, non-toxic and harmless, safe and reliable to use.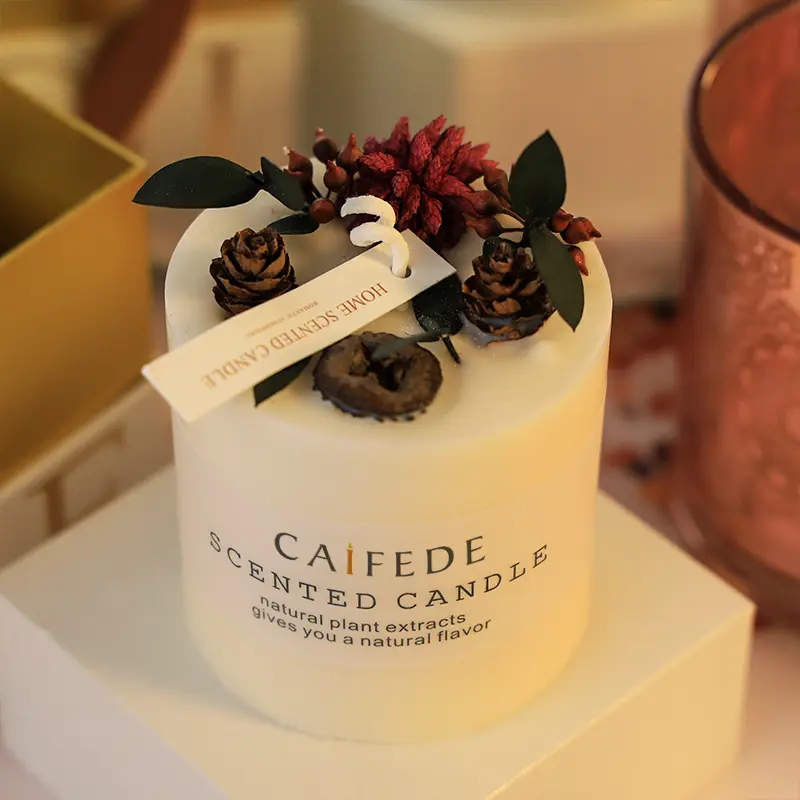 Our scented candles are made with 100% natural vegetable wax and do not contain any harmful chemicals. Each scented candle is handcrafted with the highest quality fragrances and essential oils to ensure you get the best possible aroma experience.
We offer a wide range of scents to choose from, including fresh lemon, rich vanilla, sweet peach, citrus, lavender, sandalwood and musk. Whether you're looking to relax, or add some homey ambiance to your room, we've got a scent that's right for you.
Our scented candles are available in a variety of different scents, including those that evoke a sense of relaxation, joy and calm, ideal for work and life.
Our scented candles are also produced using state-of-the-art production techniques, which guarantee their quality and consistency. Our candles have a burning time of up to 20 hours and will not produce black smoke or odor when burning, bringing customers a better burning experience.
Our scented candles also come in a beautiful box, perfect as a gift for friends, family or clients. You can choose to customize the box and add your branding or a personalized message to make your scented candle a unique and memorable gift.
If you are a promotional gift distributor, scented candles are also a good choice. We are also one of the suppliers of many promotional gift suppliers from China.
How to custom scented candles with logo?
To create custom promotional scented candles with your logo, you will need to work with a candle manufacturer or supplier who offers customization options. Here are some steps you can take:
Choose your candle scent: Work with the manufacturer to choose a scent that represents your brand or matches the theme of your promotional campaign.

Decide on the candle container: You can choose from a variety of containers, such as glass jars, tins, or votive holders. Consider the size and shape of the container, as well as the color and design options.

Customize the label: Work with the manufacturer to design a label that features your logo, brand name, or message. Choose a label material and finish that complements the candle container.

Order your candles: Once you have finalized your candle design, place your order with the manufacturer. Make sure to order enough candles to meet your promotional needs.

Distribute your candles: Use your custom promotional scented candles as a giveaway at events, as a thank-you gift to customers, or as a promotional item in a customer loyalty program.
Overall, custom promotional scented candles with logo products are a great way to increase brand recognition and customer loyalty. By choosing a scent and design that reflects your brand, you can create a unique and memorable promotional product that customers will enjoy using in their daily lives.
Whether you're looking for the perfect gift, or want to create a relaxing and cozy environment for yourself, our scented candles are just what you need. We believe that scented candles are a quality and sentimental gift for various promotions, business events and festivals. They not only catch the customer's eye, but also bring them a pleasant experience and fond memories. If you're looking for a high-quality promotional gift, our scented candles are a great choice. Please contact us to know more about our scented candles