In the realm of gift-giving, finding a present that encapsulates the essence of celebration and joy can be a delightful challenge. Introducing our Birthday Gifts Dessert Shape Candle, a unique and enchanting creation that brings together the artistry of handmade craftsmanship and the luxury of soy wax. Get ready to discover a world of charming decadence that is sure to light up birthdays in Russia and beyond.
Wholesome Delights in Wax
Our Handmade Luxury Soy Wax Biscuit Candle captures the irresistible charm of dessert favorites. The meticulous craftsmanship transforms each candle into an edible art piece, evoking the joy of indulgence without a single calorie.
Available in a range of dessert shapes, from cupcakes to cookies, these candles pay homage to the simple pleasures that make birthdays special. The attention to detail is evident in every crumb, icing swirl, and decorative touch.
A Scented Celebration
Beyond their visual appeal, these candles are also infused with delightful scents that complement their shapes. Imagine blowing out the candle and being met with the aroma of freshly baked treats – a sensory journey that enhances the celebratory atmosphere.
What can our Biscuit Candles be used for?

Our 1:1 Bicusit Cookies can be used as small gifts for festivals, candles for birthday parties and tools for pranking others
(please rest assured that all our candles are made of natural soy wax, which has no side effects on the body).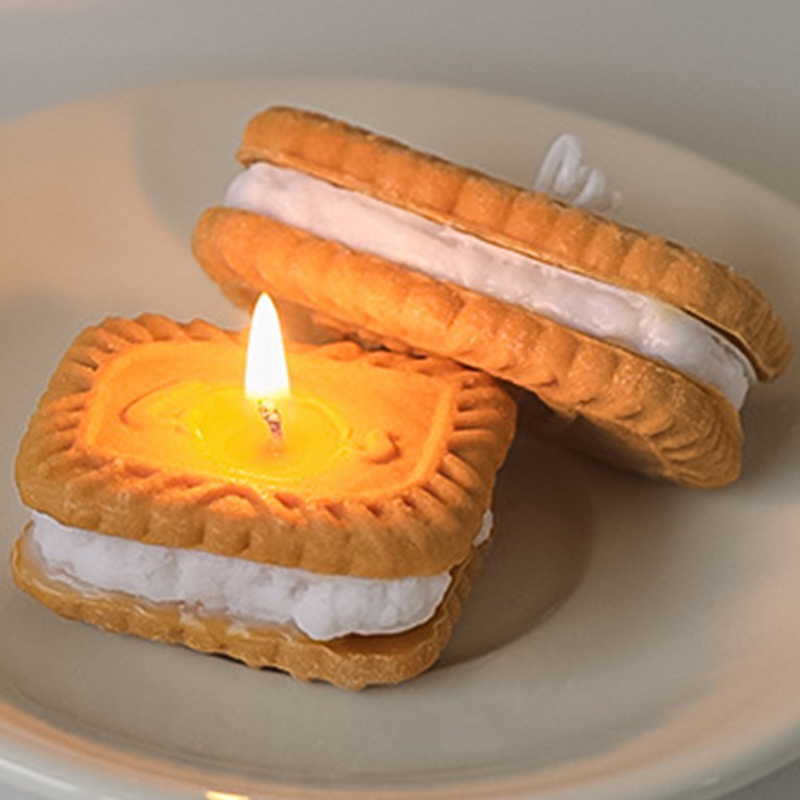 DIFFERENT PACKAGING WAY-SAFE & BEAUTIFUL
Besides the most widely used 4c printing packaging box,there are also luxury box,window box,PVC box,cloth and even leather bag,all can be made in CAIFEDE.
Crafting Lasting Memories
A birthday is a moment to create cherished memories. Our Birthday Gifts Dessert Shape Candle does just that. As the wax burns, it unveils a flickering glow that sets the scene for unforgettable moments and captures the essence of happiness.
These candles also make for charming decorations, adding a personalized touch to birthday parties, gatherings, or even intimate celebrations.
Russian Wholesale Elegance
Our commitment to providing memorable experiences extends to our Russian customers. As wholesalers, we are excited to offer the joy of these luxury soy wax biscuit candles in bulk, ensuring that birthdays are celebrated with creativity and elegance.
These candles are not just gifts; they are tokens of thoughtfulness and creativity, resonating with the shared joy of birthdays and the delight of receiving something truly unique.
Crafted to Inspire
Our Birthday Gifts Dessert Shape Candle collection is a testament to our passion for celebrating life's moments with elegance and creativity. From cupcakes to cookies, each candle is a manifestation of happiness and indulgence. The luxury of soy wax and the meticulous craftsmanship ensure that these candles go beyond mere gifts – they are the embodiment of a joyful celebration, ready to be shared with loved ones in Russia and beyond.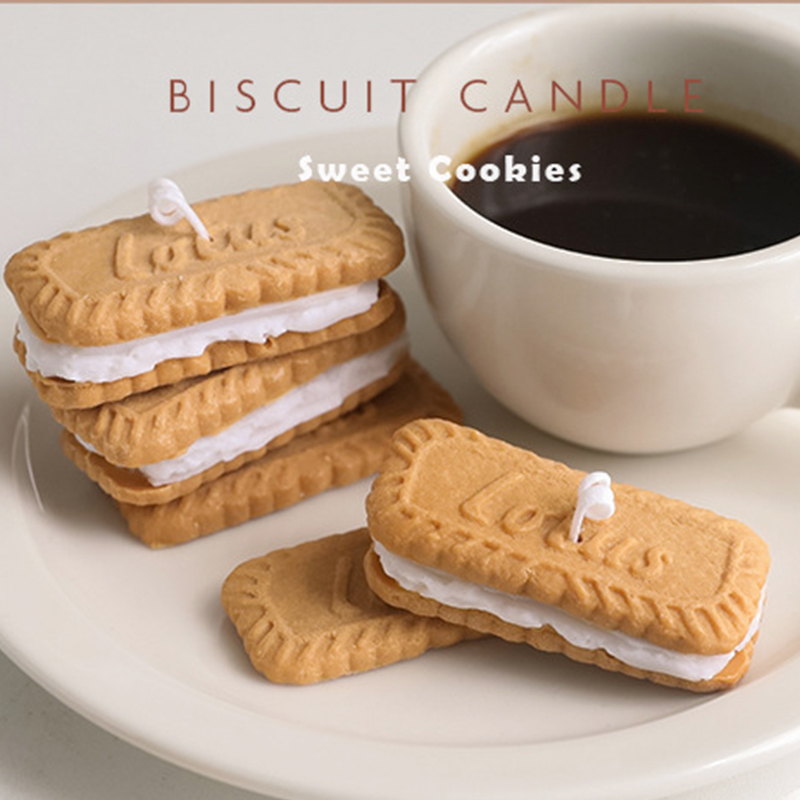 CAIFEDE focuses on home fragrance products for many years.OEM/ODM CANDLES & REED DIFFUSER are our main products. Various kinds of candles like jar/tin/tealight/pillar candles,reed diffuser,room spray,candle holders...Brand customized products occupied most of our production lines all year round,which are all under the strict quality and testing control.We cooperate with famous fragrance companies like Symrise,Mane,Givaudan...to make sure high quality for each item.Experienced design team can always grasp the latest fashion trends,and help to work our unique design for your brand if needed.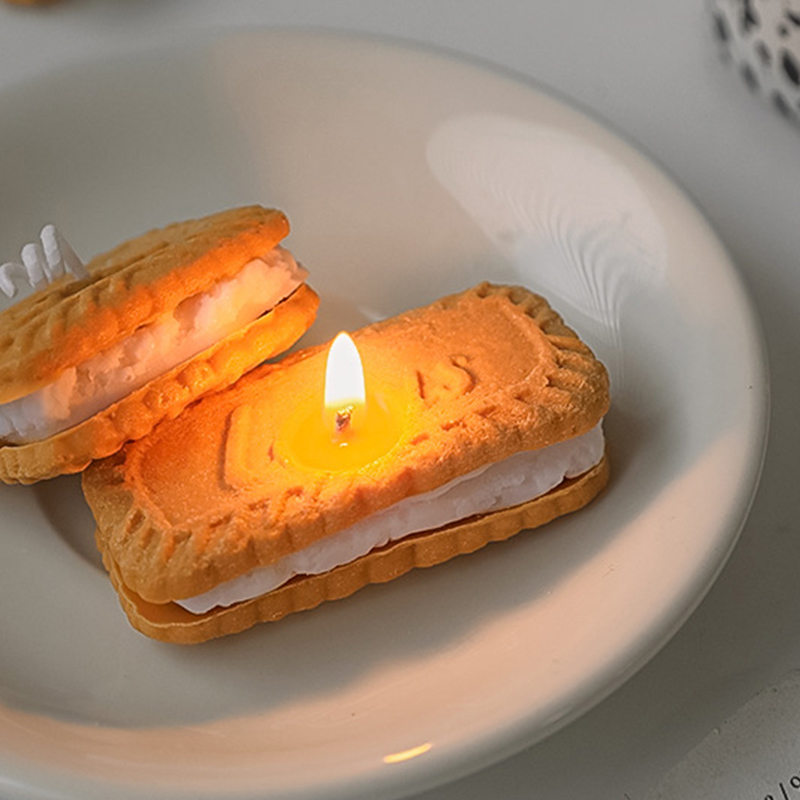 Besides candles and reed diffuser,candle holders are also our main products.There are widely and common used size this item-8*9cm,smaller one like 5*6cm,7*8cm,larger size like 13*15cm...Wide range for sizes,which can meet multiple and different needs.
Upon the clear jar,you can bring these jars so many possibilities for your own brand need.We mainly focus on custom products,and most are made upon brand needs.Color spraying,silk printing,electroplating,frosted treatment,all these can help to make the ordinary jars into the unique ones for your brand.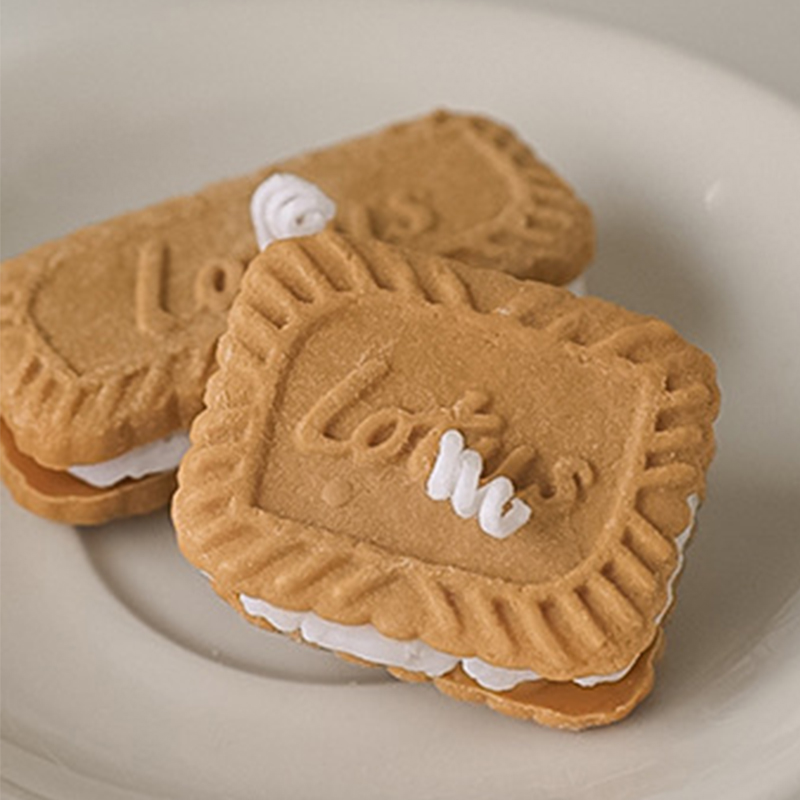 FAQ
Welcome to the FAQ section dedicated to our enchanting Handmade Luxury Soy Wax Biscuit Candles, a delightful addition to birthday celebrations. Here, we address common inquiries to provide you with a comprehensive understanding of these unique dessert-inspired candles that bring joy and creativity to special occasions, particularly in Russia.
1. What makes the Birthday Gifts Dessert Shape Candle unique?
Our Handmade Luxury Soy Wax Biscuit Candles stand out due to their dessert-inspired shapes, meticulously crafted by hand to capture the essence of delightful treats. Each candle is an artistic representation that adds a touch of whimsy to birthday celebrations.
2. Are the scents customizable to match the dessert shapes?
Yes, indeed! We offer scents that complement the dessert shapes, enhancing the sensory experience. When the candle is lit, the delightful aroma of freshly baked treats adds an extra layer of authenticity and charm.
3. Can these candles be used for both decoration and lighting?
Absolutely. These candles serve as both decorative pieces and sources of ambient lighting. They create a warm and cozy atmosphere, perfect for birthday parties or any celebration.
4. Is the soy wax used in these candles safe and eco-friendly?
Yes, our Handmade Luxury Soy Wax Biscuit Candles are crafted using high-quality soy wax, known for its eco-friendly and clean-burning properties. It ensures a safe and enjoyable experience for you and the environment.
5. How does the wholesale option work for customers in Russia?
As wholesalers, we offer the opportunity for customers in Russia to procure these charming candles in bulk quantities. This allows you to spread the joy of these unique candles across various celebrations and events.
6. Can these candles be customized for specific occasions or themes?
While the basic dessert shapes are fixed, we are open to discussing customization options based on your specific needs. Feel free to reach out to us to explore possibilities for creating candles that align with your desired themes or occasions.
7. Do these candles come with instructions for safe use?
Yes, each candle comes with safety instructions for proper usage. We recommend following these guidelines to ensure a safe and enjoyable experience while enjoying the ambiance and scents.
8. How do I store these candles when not in use?
To preserve the quality and aroma of these candles, store them in a cool and dry place away from direct sunlight or extreme temperatures.
9. Do you offer international shipping to Russia?
Yes, we offer international shipping to Russia and various other countries. Please contact us for shipping details and options available in your region.
We hope these FAQs provide you with a comprehensive understanding of our Birthday Gifts Dessert Shape Candle Russia Wholesale Handmade Luxury Soy Wax Biscuit Candle collection. If you have further questions or require additional information, please don't hesitate to reach out to us.