The holiday season is a time of warmth, joy, and celebration, and what better way to enhance the festive atmosphere than with the flickering glow and enchanting scents of luxury candles? CAIFEDE, a leading manufacturer in the world of scented candles, offers a unique and opulent experience with its own brand logo custom luxury golden Christmas scented glass jar candles.
Christmas is filled with white beautiful snow,warm fireplace,lively atmosphere,and cozy room...If there is a beautiful scented candle,will must be a very special part,which helps a lot to enhance the comfortable breeze.You can not miss it.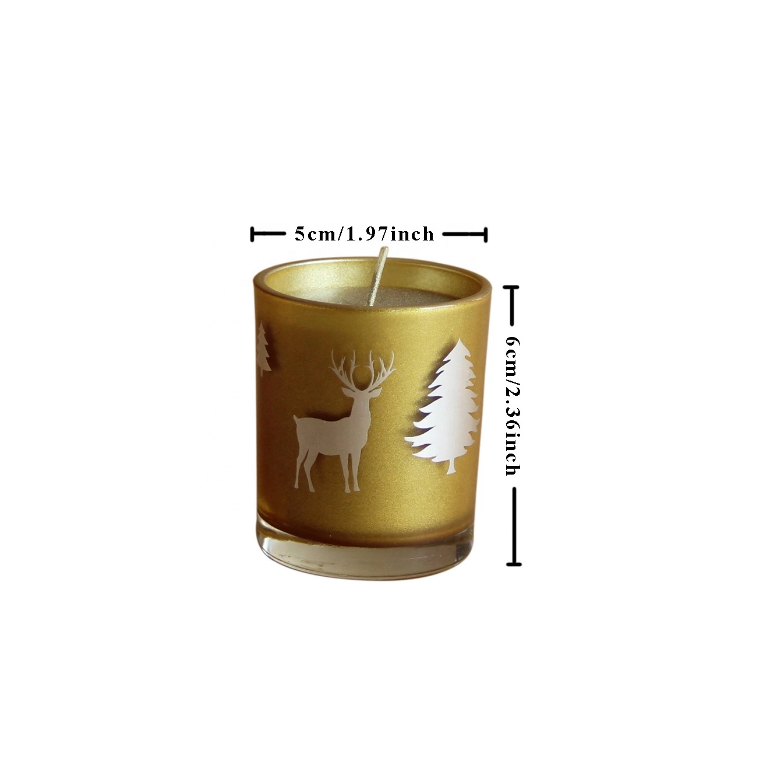 For our scented candles,can all be customized upon brand needs,with your own logo,design,or customized scents.There are so many different kinds of containers for wax pouring,glass jars,ceramic mugs,metal tins...multiple shapes and sizes for your selections.Of course,if you want something special,surface treatments are various.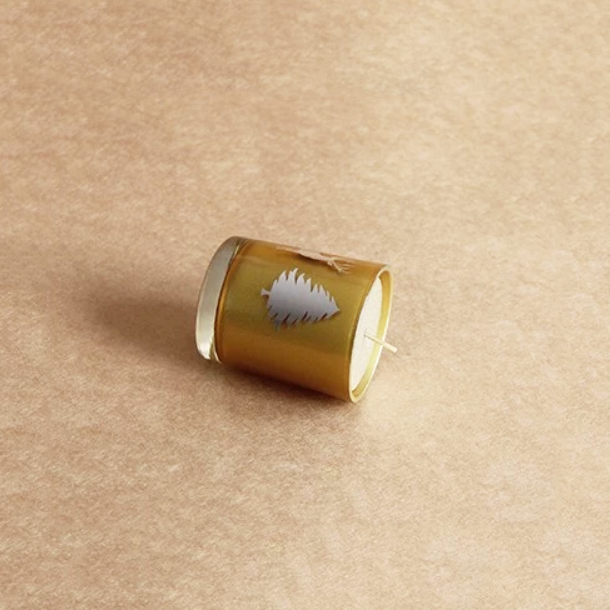 Color spraying,frosting,electroplating,silk screen printing,private label sticker...These will all make your candles more special and attractive.There is a wide range of scent collection you can choose for your brand,floral,woody,citrus and spicy scents,as well as you need your customized scents,are always workable and welcome.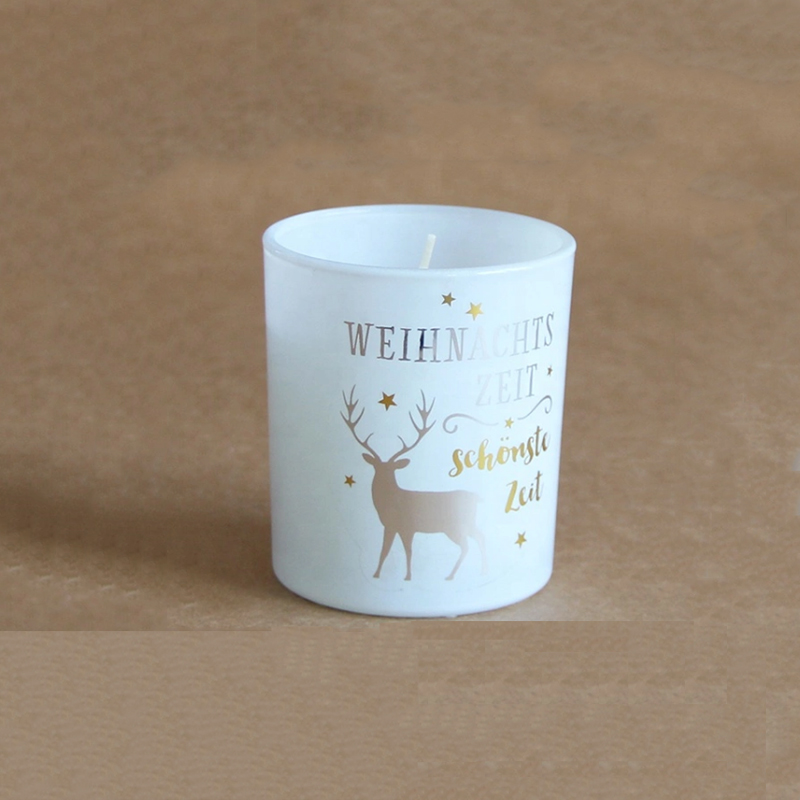 Own brand logo custom luxury golden Christmas scented glass jar candles manufacturer-CAIFEDE
1. Custom Luxury Design
CAIFEDE's golden Christmas scented glass jar candles are not just ordinary candles; they are a statement of luxury and sophistication. Each candle is thoughtfully designed with a golden hue that exudes opulence, making it a perfect addition to your holiday decor.
CAIFEDE's commitment to crafting candles that go beyond the ordinary is exemplified by their golden Christmas scented glass jar candles. Here's an in-depth look at the custom luxury design that sets these candles apart:
Exquisite Aesthetics: CAIFEDE understands that the holiday season demands something special. Their golden Christmas candles are meticulously designed with a touch of opulence. The stunning golden hue radiates elegance, creating an immediate impression of luxury. Whether placed on a festive table, a mantel, or as a centerpiece, these candles elevate your holiday decor, turning any space into a sophisticated haven of warmth and beauty.
Thoughtful Details: The design of CAIFEDE's candles extends to every aspect, from the shape and size of the glass jar to the intricacy of the lid. Each element is carefully considered to harmonize with the golden theme, ensuring that the candles make a lasting visual impact. The attention to detail ensures that these candles stand out as more than just sources of light and fragrance—they are exquisite pieces of decor in their own right.
Customizable Elegance: CAIFEDE goes a step further by offering customization options. Whether you want to add your own brand logo, a personal message, or specific design elements to the candles, CAIFEDE accommodates your vision. This level of customization allows you to create candles that are not only elegant but also uniquely yours, making them ideal for corporate gifting, special occasions, or personal indulgence.
Warmth and Opulence Combined: The golden hue of these candles not only enhances the visual appeal of your holiday decor but also adds a touch of warmth. The gentle flicker of the flame against the golden backdrop creates a cozy and inviting atmosphere that is perfect for gatherings, celebrations, or moments of solitude during the holiday season.
Perfect Gifts: These custom luxury candles are not just for personal use; they make exceptional gifts. Whether presented as a token of appreciation, a gesture of love, or a corporate gift to clients and partners, these candles convey a sense of thoughtfulness and luxury that leaves a lasting impression.
CAIFEDE's custom luxury design for their golden Christmas scented glass jar candles is a testament to their commitment to elegance and opulence. These candles are more than just decorative; they are statements of refined taste and attention to detail. When you choose CAIFEDE, you infuse your holiday decor with a touch of luxury that resonates with warmth and sophistication, creating an unforgettable ambiance for the season.
2. Captivating Scents
The heart of these candles lies in their enchanting scents. CAIFEDE offers a wide range of custom fragrance options to choose from, each carefully crafted to evoke the essence of the holiday season. Whether you prefer the warm embrace of cinnamon and vanilla or the fresh notes of pine and cedar, CAIFEDE has the perfect fragrance to set the mood.
At the core of CAIFEDE's golden Christmas scented glass jar candles lies an enchanting world of fragrances, carefully crafted to evoke the very essence of the holiday season. Here's a closer look at the captivating scents that make these candles a sensory delight:
Diverse Fragrance Palette: CAIFEDE understands that scent is a powerful trigger of memories and emotions. That's why they offer a wide range of custom fragrance options, each designed to transport you to a distinct holiday-inspired realm. Whether you're seeking the comforting embrace of traditional holiday spices, the freshness of winter forests, or the sweetness of holiday treats, CAIFEDE has a fragrance that aligns with your festive desires.
Warm Embrace of Cinnamon and Vanilla: For those who cherish the nostalgic scent of holiday baking and the comforting aroma of spiced desserts, CAIFEDE's candles offer fragrances like cinnamon and vanilla. These warm and inviting scents infuse your space with the cozy ambiance of a holiday kitchen, making it perfect for gatherings and family celebrations.
Fresh Notes of Pine and Cedar: If you prefer the crisp and invigorating scents of the great outdoors during the holidays, CAIFEDE offers fragrances like pine and cedar. These scents capture the essence of winter forests, evoking memories of snowy landscapes and holiday adventures. They are ideal for creating a refreshing and revitalizing atmosphere in your home.
Customized Holiday Memories: The ability to choose from a range of fragrances allows you to personalize your holiday experience. Whether you want to recreate cherished memories or set a specific mood for your holiday gatherings, CAIFEDE's custom fragrance options provide the perfect solution.
Sensory Delight: The scents of CAIFEDE's candles are not just olfactory; they are a journey for the senses. As the candles burn, they release their fragrant notes into the air, filling your space with a delightful and immersive aroma that captivates everyone in the room.
Elevate Your Holiday Decor: Beyond their visual appeal, the scents of these candles play a significant role in creating a memorable holiday atmosphere. They complement your decorations and enhance the festive mood, turning your space into a haven of holiday magic.
Perfect for Gifting: CAIFEDE's scented glass jar candles are exceptional gifts. Whether you're looking to surprise a loved one with their favorite holiday scent or send a thoughtful corporate gift, these candles convey a sense of care and consideration that resonates deeply.
CAIFEDE's captivating scents are an integral part of the golden Christmas scented glass jar candles. These fragrances are carefully curated to encapsulate the spirit of the holiday season, allowing you to immerse yourself and your loved ones in a world of sensory delight. With an array of scent options, you have the power to customize your holiday experience, making it all the more special and unforgettable.
3. Endless Customization
What truly sets CAIFEDE apart is its commitment to customization. With the ability to add your own brand logo or personal touch to the candles, you can create a unique and memorable gift for loved ones or a stunning addition to your own holiday collection.
4. Premium Quality
CAIFEDE takes pride in its commitment to quality. Each candle is hand-poured with precision and made from high-quality wax that burns cleanly and evenly. You can trust that your CAIFEDE candle will provide hours of fragrant delight.
5. Thoughtful Gift
These luxury golden Christmas scented glass jar candles are not only a treat for yourself but also a thoughtful gift for friends and family. When presented with a personalized touch, they become a cherished keepsake that spreads holiday cheer and goodwill.
6. Versatile Decoration
Beyond their fragrance and glow, these candles serve as elegant decorations. Whether adorning your holiday table, mantel, or shelf, they add a touch of glamour and warmth to any setting.
7. Sustainable Choice
CAIFEDE is committed to sustainability. The glass jars can be repurposed or recycled, contributing to a more eco-friendly approach to holiday decorating.
8. Memorable Moments
As you light your CAIFEDE luxury golden Christmas scented glass jar candles, you create memorable moments with loved ones, basking in the warm, inviting atmosphere they create.
In conclusion, CAIFEDE's luxury golden Christmas scented glass jar candles are more than just candles; they are an experience. With customization options, captivating scents, and a commitment to quality, these candles elevate your holiday season, making it truly unforgettable. Illuminate your world with the radiance of CAIFEDE, and let the spirit of the holidays come alive in every flicker of the flame.
FACTORY


CANDLE FACTORY
FAQ
FAQ
1. Can I choose the fragrance for my custom luxury golden Christmas scented glass jar candles?
Yes, CAIFEDE offers a wide range of custom fragrance options, allowing you to select the scent that best suits your preferences and the holiday atmosphere you want to create.
2. How can I add my own brand logo to the candles?
CAIFEDE provides customization options for adding your brand logo or personal touch to the candles. You can discuss the customization process, including logo placement and design, with CAIFEDE's team to create a unique and branded product.
3. Are these candles suitable for corporate gifting?
Absolutely! CAIFEDE's custom luxury candles make exceptional corporate gifts. You can add your company's logo or a personalized message to create a memorable and sophisticated gift for clients, partners, or employees.
4. Do these candles come in different sizes and shapes?
CAIFEDE offers various candle sizes and shapes to suit your preferences and decor requirements. You can inquire about the available options to find the perfect fit for your holiday display.
5. How do I maintain and care for these scented glass jar candles?
To ensure the best performance and safety, always follow the care and maintenance instructions provided by CAIFEDE. Generally, it's advisable to keep the wick trimmed to the recommended length, burn the candle on a level surface, and extinguish it when not in use.
6. Are the glass jars reusable or recyclable?
Yes, the glass jars used for these candles are typically reusable or recyclable. After you've enjoyed the candle, you can repurpose the jar for various purposes or recycle it in accordance with your local recycling guidelines.
7. What is the burn time for these candles?
The burn time of CAIFEDE's candles may vary depending on the size and fragrance. Specific burn times for each candle can be provided by CAIFEDE, ensuring you have an idea of how long you can enjoy the fragrance.
8. Are these candles safe to use at home?
Yes, CAIFEDE prioritizes safety in their candle design and production. When used according to the provided instructions, these candles are safe for home use. Always follow candle safety practices, such as never leaving a burning candle unattended.
9. Can I order these candles in bulk for events or special occasions?
CAIFEDE welcomes bulk orders for events, celebrations, or special occasions. You can discuss your bulk order requirements with CAIFEDE's team to ensure a smooth and tailored process.
10. Do these candles make good gifts for friends and family?
Absolutely! CAIFEDE's custom luxury golden Christmas scented glass jar candles make thoughtful and cherished gifts for friends and family. Whether for the holidays, birthdays, or any special occasion, they convey a sense of luxury and care.
Always feel free to reach out to CAIFEDE for any specific inquiries or customization requests regarding their candles. We are dedicated to providing exceptional products and service to meet your needs.
YOU MAY LIKE:
Hot selling US rechargeable portable waterless aroma diffuser
Ultrasonic aromatherapy essential oil diffuser UK with own brand name customized packaging
Wholesale Himalayan salt lamp diffuser manufacturers Canada for home decor
Customized white private label luxury scented candle manufacturer wholesale
Luxury 400g Christmas scented pillar candle UK with private label
Luxury private label soy wax scented candles with customized own brand name packaging
China candle wholesaler personal label hot sale glass scented candle with metal lid
Iceland private label essential oil room reed diffuser oil air freshener
Room freshener supplier wholesale aromatherapy oil reed diffuser with own brand name customized packaging