In the world of interior design and ambiance creation, few elements are as captivating as the gentle glow of candlelight. But what sets the mood and enhances the aesthetics even further is the vessel that holds that flickering flame. Enter our custom candle holder glass jars – expertly crafted by CAIFEDE renowned for their thick-walled designs. These candle holders have become incredibly popular in the Philippines, and it's time to explore why.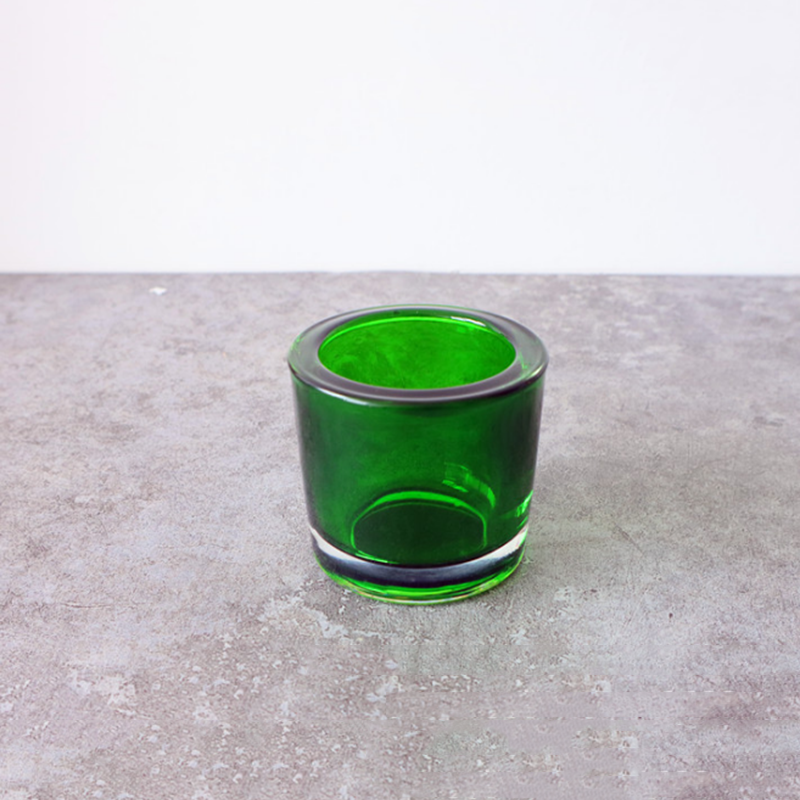 The original glass are all clear ones,then you can turn these ordinary clear glass into the most special and unique ones of your own brand,with so many professional techniques.Before you design,the sizes are the basice part,which needs to be confirmed firstly,then can we can proceed the next steps together.Or tell us which sizes do you prefer,we'll try to make similar ones.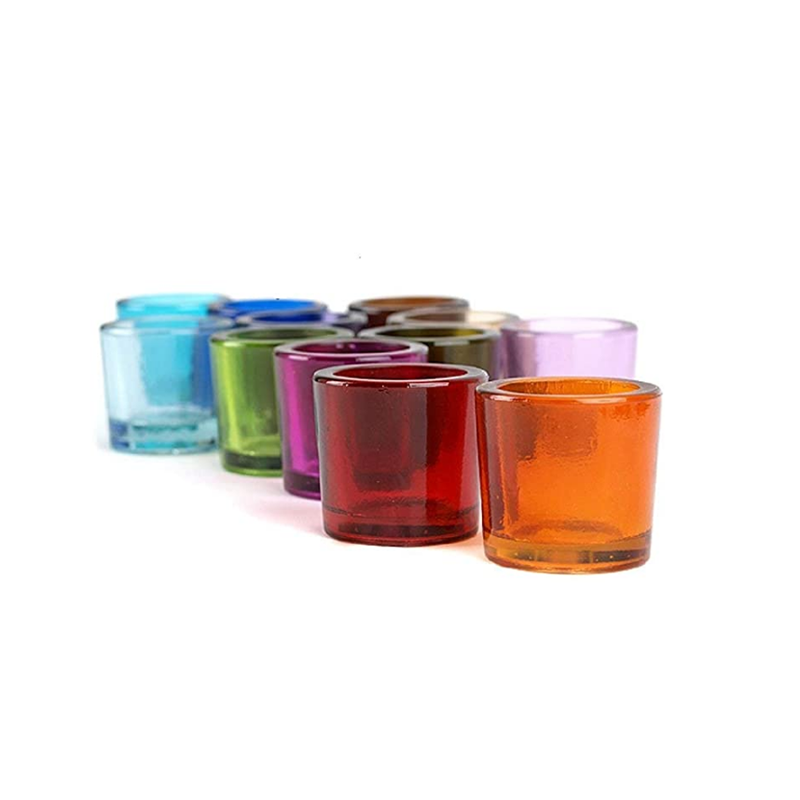 Color spraying,logo printing,and so many different surface treatment are the most widely used for customized glass candle jars.Almost all colors can be customized color No,especially for Pantone colors.For brand customization,brand logo or candle description are the very specific parts for each brand.You can choose silk screen printing,golden/silver foil stamping,also private label sticker...all will be workable upon needs.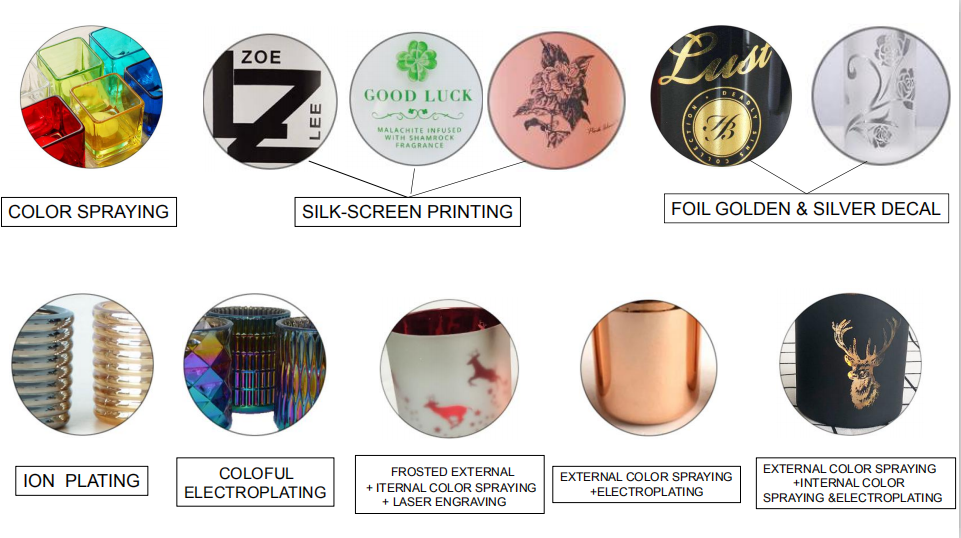 Scent is the very important part of a candle set,we have the widely and classical used scents,also provide special customized mixed scents,which means,if based on available order quantity,customzied scents for your own brand or collections is always workable.Scent customization is our main service too.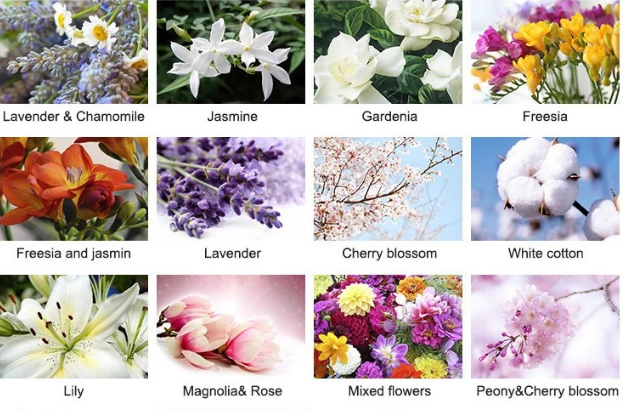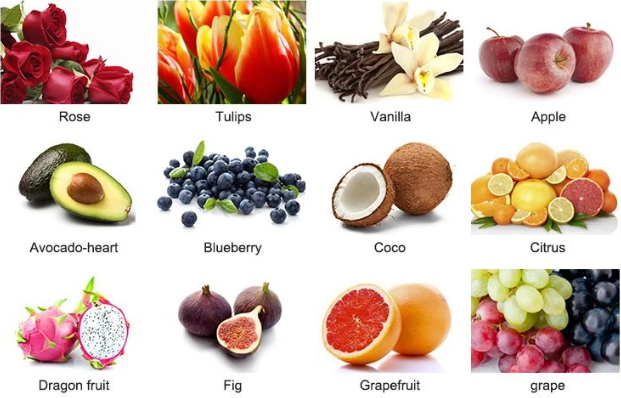 Packaging ways are so various,cardboard,luxury box,pvc box,cloth bag...share your needs,we'll bring your vision into life.
Elevate Your Candle Game
Candle holders are more than just functional accessories; they're an extension of your style and a statement of elegance. Our custom glass jars redefine candle holders, offering a range of features that make them a must-have in the Philippines' design scene.
Thick-Walled Excellence
What sets our candle holder glass jars apart is their thick-walled design. The thicker glass not only adds to their sturdiness but also enhances their aesthetic appeal. The play of light through the substantial glass creates a mesmerizing effect, amplifying the candle's beauty.
Endless Customization
Personalization is the heart of our candle holders. Whether you're decorating your home, planning an event, or looking for the perfect gift, we offer customization options that allow you to tailor these glass jars to your vision. Choose from:
Sizes: Find the perfect size, from small and intimate to large and grand, to suit any occasion.
Shapes: Discover an array of shapes, from classic cylindrical jars to elegant geometric designs, all of which add a touch of sophistication to your space.
Finishes: Select from an assortment of finishes, including clear, frosted, or even colored glass, to match your décor or theme.
Personalization: Add your own touch with monograms, labels, or custom designs to make these candle holders uniquely yours.
Popular in the Philippines
Our custom candle holder glass jars have gained immense popularity in the Philippines due to their versatility and charm. Whether it's a cozy evening at home, a romantic dinner, or a grand celebration, these candle holders add a touch of enchantment to any setting.
Get Started Today
Ordering your custom candle holder glass jars is a breeze. Contact our team to discuss your design preferences, quantities, and delivery options. We offer competitive pricing and can accommodate both small and bulk orders.
Elevate your candle game with our custom candle holder glass jars. These candle holders, beloved in the Philippines, bring sophistication and charm to any space or occasion. Illuminate your surroundings with elegance and create lasting memories with the flicker of candlelight in these exquisite glass jars. Contact us today to explore the possibilities and experience the magic of candlelight like never before.
RELATED PRODUCTS
FACTORY&PRODUCTION
PRICE TERM

FOB Qingdao

SAMPLE POLICY

1.Sample lead time: Usually within 3~7days

2.OEM ODM services

3.Free samples will be provided,sample fees are refundable upon order

SHIPPING

1.By air, sea or combined transportation

2.Express via FEDEX,TNT,UPS,DHL,EMS,HK Post(As your request)

3.Tracking Number will offer you immediately after delivery.

4.Shipping cost depends on the shipping method, product quantity, weight, carton size and your area.

DELIVERY TIME

Regular order:30-60day after sample approval.
FAQ
1. What are custom candle holder glass jars with thick walls?
Custom candle holder glass jars with thick walls are decorative containers designed to hold candles securely. They are characterized by their robust and thick-walled design, which enhances both their durability and aesthetic appeal.
2. Why are these candle holders popular in the Philippines?
Custom candle holder glass jars with thick walls have gained popularity in the Philippines due to their versatility and elegance. They are used to create warm and inviting atmospheres in homes, restaurants, events, and celebrations, adding a touch of sophistication to any setting.
3. Can I personalize these glass jars to match my preferences?
Yes, customization options are available for these glass jars. You can tailor them to your liking by choosing the size, shape, finish, and even adding personalized designs or labels. This allows you to create unique candle holders that align with your style or event theme.
4. Are these candle holders suitable for various candle types?
Yes, these glass jars are designed to accommodate various candle types, including votive candles, tea lights, pillar candles, and more. Their sturdy construction makes them suitable for safely holding different candle sizes.
5. Can I order these glass jars in bulk for events or business purposes?
Absolutely. We offer bulk ordering options to cater to events, businesses, and wholesale buyers. Be sure to inquire about minimum order quantities (MOQ) and pricing for larger quantities.
6. How do I clean and maintain these glass jars?
Maintaining these candle holders is easy. Simply clean them with a damp cloth or sponge to remove any residue. Avoid using abrasive materials that may scratch the glass, and handle them with care to prevent breakage.
7. Can I use these candle holders for outdoor events in the Philippines?
These candle holders can be used for outdoor events, but it's important to protect them from strong winds, rain, or extreme weather conditions to prevent accidents and ensure their longevity.
8. Do these candle holders come with candles included?
Typically, these glass jars are sold separately from candles. However, you can coordinate with the supplier to include candles in your order if needed.
YOU MAY LIKE:

Private label own brand packaging customized wholesale luxury soy wax candles gift set for home decor and fragrance
Private label own brand customized wholesale aroma room freshener spray for air freshening with different volumes
Free samples supply wholesale luxury pillar candle holders with different sizes for home decor
Candle Vendor Personalized large scented travel candle tin wholesale candle in tins
Customized hot selling fragrance ceramic oil burner with wax melt or candle
Wholesale Himalayan salt lamp diffuser manufacturers Canada for home decor