In our busy lives, a pleasant living environment is essential for comfort and relaxation. We are proud to introduce to our South African customers our innovative product - 50ml Aromatherapy Indoor Wholesale Aloe Vera Essential Oil. This product provides a fresh and pleasant fragrance to your home environment, allowing you to enjoy relaxation and pleasure.
Features
※

FOUR DIFFERENT FRESH SCENTS,EACH SCENT HAS ITS OWN PACAKGING BOX

※
Sweet Pea: Sweet Pea is a delightful and floral scent, reminiscent of blooming garden flowers. It offers a fresh and romantic fragrance that can brighten up any space.
Fresh Cotton: The Fresh Cotton scent captures the essence of freshly laundered linens and clean laundry. It provides a crisp and airy aroma that evokes feelings of cleanliness and comfort.
Vanilla: Vanilla is a warm and inviting scent with a sweet and comforting aroma. It creates a cozy ambiance, making it a popular choice for relaxation and stress relief.
Lavender: Lavender is a classic and soothing scent known for its calming properties. It offers a gentle floral fragrance that promotes relaxation and tranquility.
Individual Packaging Boxes
Each of these scents comes in its unique packaging box, designed to complement the fragrance experience:
Sweet Pea: The Sweet Pea packaging box features vibrant floral imagery and colors, conveying a sense of freshness and nature.
Fresh Cotton: The Fresh Cotton packaging box showcases clean and crisp design elements, reflecting the scent's refreshing qualities.
Vanilla: The Vanilla packaging box incorporates warm and inviting colors and imagery, conveying a sense of comfort and relaxation.
Lavender: The Lavender packaging box highlights calming and serene visuals, setting the tone for a peaceful and soothing experience.
Whether you have a retail store or simply want to explore home fragrance products, these four scents offer excellent choices to start with. They are popular and well-loved fragrances that can appeal to a wide range of customers, making them a great beginning for your home fragrance journey.
Each scent not only brings its unique aroma but also a thoughtfully designed packaging box that enhances the overall presentation of the product. Customers can choose their favorite scent or explore all four to find the one that best suits their preferences and ambiance needs.
※

HIGH QUALITY AND INEXPENSIVE

※
Our range of 50ml Wholesale Fresh Room Reed Diffuser Oils from South Africa offers a unique blend of high quality and affordability, ensuring you get the best of both worlds:
Exceptional Quality: Our diffuser oils are crafted with meticulous attention to detail, using premium ingredients and techniques. This commitment to quality ensures that you and your customers experience the true essence of each scent, with long-lasting and delightful fragrance diffusion.
Exquisite Scents: The four available scents – Sweet Pea, Fresh Cotton, Vanilla, and Lavender – are carefully curated to offer a wide spectrum of aromas. Each scent is a true representation of its natural counterpart, bringing the essence of blooming flowers, fresh laundry, warm vanilla, and soothing lavender into your living spaces.
Affordability: We understand the importance of competitive pricing, which is why our 50ml diffuser oils are not only of top-notch quality but also budget-friendly. This makes them an excellent choice for retailers, distributors, or anyone seeking to introduce high-quality home fragrance products without breaking the bank.
Longevity: Our diffuser oils are designed for longevity. With just a small amount of oil, you can enjoy weeks of continuous and consistent fragrance diffusion, making each bottle an excellent value for money.
Variety and Versatility: The availability of four distinct scents allows for variety and versatility. Whether you're looking to create a relaxing ambiance, freshen up your living space, or add a touch of sweetness, these diffuser oils cater to different preferences and occasions.
Packaging Excellence: Each scent comes in its own uniquely designed packaging box, not only adding to the product's aesthetic appeal but also making it a perfect choice for gifting or resale.
Customer Satisfaction: The combination of high quality, affordability, and delightful scents is geared toward ensuring customer satisfaction. When you choose our 50ml Wholesale Fresh Room Reed Diffuser Oils, you're selecting a product that can bring joy and comfort to homes while meeting your budgetary requirements.
Whether you're a retailer looking to stock your shelves with quality home fragrance products or an individual seeking to enhance your living spaces, our 50ml diffuser oils are the ideal choice. Experience the perfect blend of high quality and affordability with scents that will captivate your senses and transform your environment.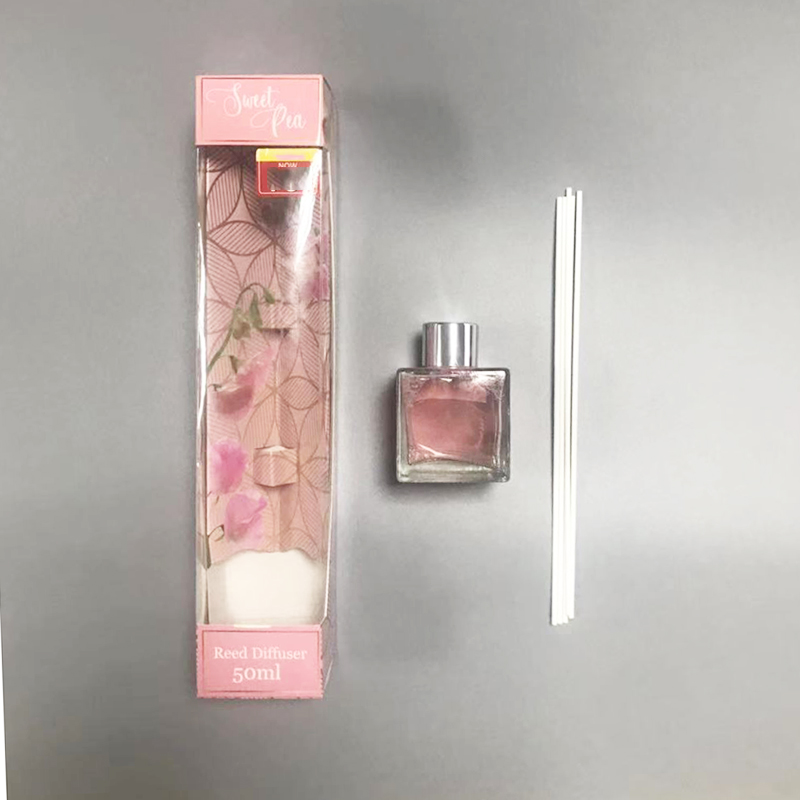 ※BEAUTIFUL PACKAGINGS.IF NEEDED,COLORFUL PACKAGING BOX CAN BE CUSTOMIZED※
This reed diffuser is with 50ml volume,with a private label on clear glass container.Packaging box is combined with classical PVC and colorful packaging card.There are four scents,each scent has its own private label and packaging box.If needed,private label and packaging car can be customized.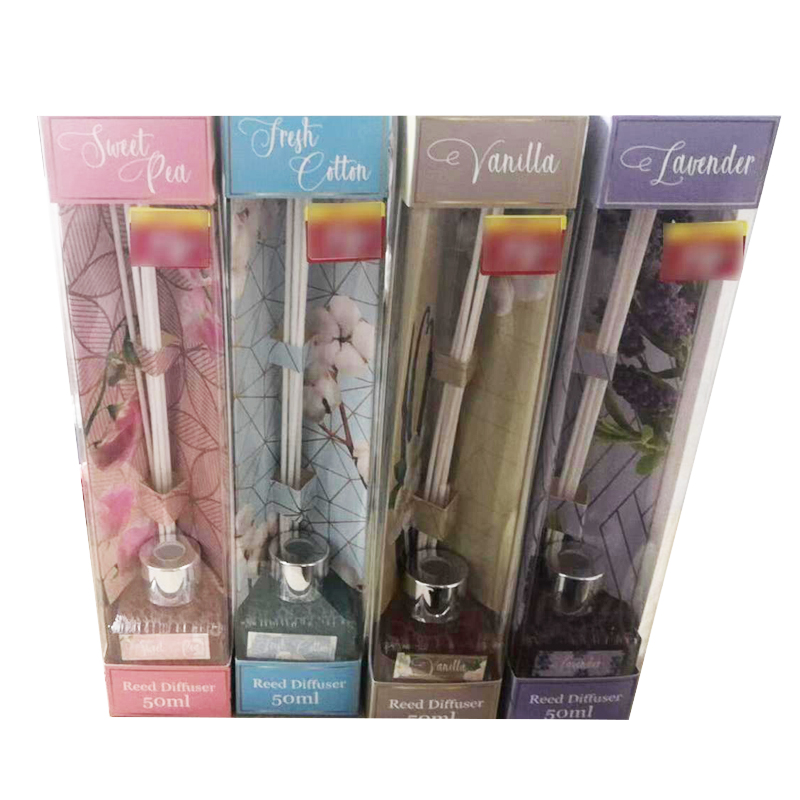 PRICE TERM

FOB Qingdao

SAMPLE POLICY

1.Sample lead time: Usually within 3~7days

2.OEM ODM services

3.Free samples will be provided,sample fees are refundable upon order

SHIPPING

1.By air, sea or combined transportation

2.Express via FEDEX,TNT,UPS,DHL,EMS,HK Post(As your request)

3.Tracking Number will offer you immediately after delivery.

4.Shipping cost depends on the shipping method, product quantity, weight, carton size and your area.

DELIVERY TIME

Regular order:30-60day after sample approval.



FAQ
What is a reed diffuser oil, and how does it work?
A reed diffuser oil is a liquid fragrance solution that is placed in a container with reeds. The reeds absorb the oil and disperse the fragrance into the surrounding air through capillary action, providing a continuous and long-lasting scent.
How long does a 50ml bottle of diffuser oil typically last?
The longevity of a 50ml bottle of diffuser oil can vary depending on factors like room size, temperature, and the number of reeds used. On average, it can last several weeks to a few months.
Can I adjust the strength of the fragrance?
Yes, you can control the strength of the fragrance by adjusting the number of reeds used. More reeds will result in a stronger scent, while fewer reeds will produce a milder aroma.
Are the scents natural or synthetic?
The scents offered in our 50ml diffuser oils are crafted to replicate natural fragrances, providing a true-to-life aromatic experience. While they are not derived directly from natural sources, they capture the essence of natural scents.
Are these oils safe for use around pets and children?
Reed diffuser oils are generally considered safe when used as directed. However, it's advisable to keep them out of reach of pets and children and to place them in areas where they cannot be knocked over.
Do I need to flip the reeds regularly?
Flipping the reeds periodically helps refresh the scent. You can flip them every week or as needed to maintain a consistent fragrance level.
Can I use these diffuser oils in larger rooms or open spaces?
For larger rooms or open spaces, it's recommended to use multiple reed diffusers to ensure even fragrance distribution. The number of diffusers needed may vary based on room size and desired scent intensity.
Are these oils suitable for resale or gifting?
Yes, these diffuser oils, with their attractive packaging and delightful scents, are excellent choices for resale in retail stores or for gifting to friends and loved ones.
Can I customize the packaging for bulk orders?
Yes, customization options for packaging is available for bulk orders. You can inquire with our customer service about customization details.
Do you offer international shipping, including to South Africa?
We offer international shipping services. You can check with our customer service staff for specific shipping options and costs to South Africa or other destinations.
YOU MAY LIKE:

Private label own brand packaging customized wholesale luxury soy wax candles gift set for home decor and fragrance
Private label own brand customized wholesale aroma room freshener spray for air freshening with different volumes
Free samples supply wholesale luxury pillar candle holders with different sizes for home decor
Candle Vendor Personalized large scented travel candle tin wholesale candle in tins
Customized hot selling fragrance ceramic oil burner with wax melt or candle
Wholesale Himalayan salt lamp diffuser manufacturers Canada for home decor