Special Wedding Candle Dress Shaped Scented Candle
Why Wedding will need a special shaped candle?
A special shaped candle, such as a wedding dress-shaped candle, adds a touch of uniqueness and romance to wedding celebrations. Here's why a special shaped candle is a wonderful addition to your wedding.
Romantic Atmosphere
Weddings are all about celebrating love and romance, and a special shaped candle helps to create a romantic ambiance. The soft and gentle glow of a wedding dress-shaped candle enhances the intimate and loving atmosphere, making the wedding even more memorable and heartwarming.
Easy to Use and Versatile
Special shaped candles are incredibly easy to use and simple to operate. They can be placed strategically throughout the wedding venue to effortlessly build a warm and inviting atmosphere. These candles can be used as table centerpieces, placed along aisles, or displayed on reception tables to create a cozy and enchanting environment.
Perfect Gift for Her
The wedding dress-shaped candle is designed to resemble a bridal gown, making it a thoughtful and meaningful gift for the bride-to-be. Its unique design reflects the essence of the special day, and it serves as a beautiful keepsake that she can cherish long after the wedding.
Versatile Decoration
The wedding dress-shaped candle is not limited to wedding celebrations only. Its versatility allows it to be used as a decorative piece for various occasions, including Valentine's Day, theme parties, and romantic dinners. It symbolizes love and celebration, making it an ideal decoration for any event that embraces these sentiments.
Craftsmanship and Experience
The exquisite craftsmanship that goes into creating the wedding dress-shaped candle ensures that it becomes a stunning focal point at the wedding. Its complete configuration and attention to detail offer a unique and delightful experience for both the couple and the guests.
A special shaped candle, especially one designed in the shape of a wedding dress, adds a touch of romance and uniqueness to your wedding celebrations. Its gentle and romantic light sets the stage for a memorable and intimate atmosphere. Versatile and easy to use, this candle can serve as a practical decoration for various occasions beyond the wedding day. With its meticulous craftsmanship, it becomes a cherished keepsake of the special day, symbolizing love and joy for years to come. Embrace the magic of the wedding dress-shaped candle and create a truly enchanting experience for your wedding and beyond.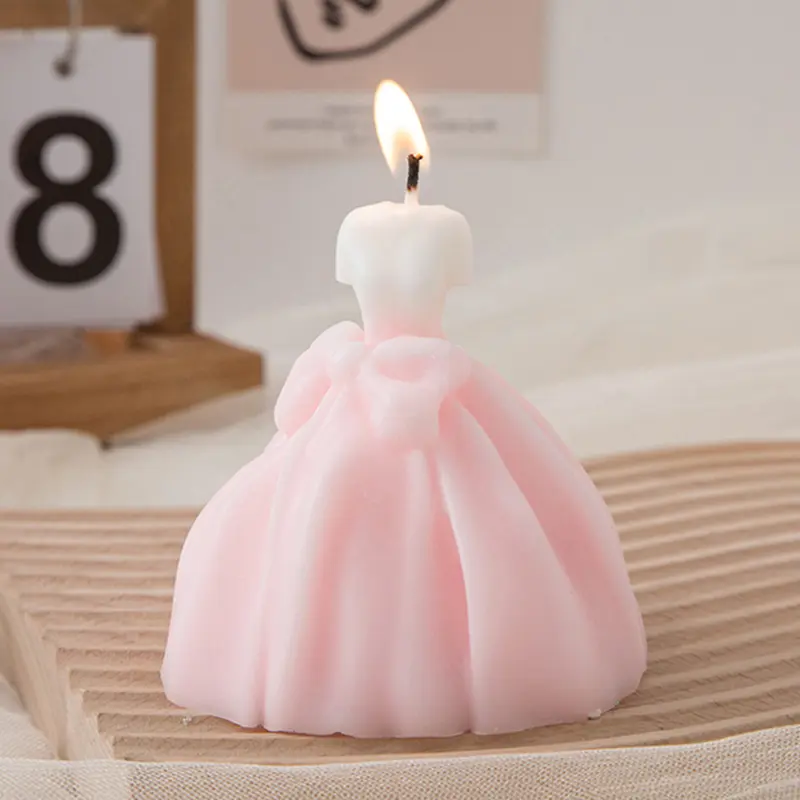 What kind of meterial we used?

At our company, we take great pride in using only the finest materials to craft our candles, ensuring that each product is of the highest quality and truly exceptional. Here are the materials we use to create our beautiful 3D bridal gown candles:
100% Natural Soy Wax
Our candles are made from 100% natural soy wax, which is derived from soybeans. Soy wax is a renewable and eco-friendly resource, making it a sustainable choice for candle making. It burns cleaner and slower than traditional paraffin wax, producing minimal soot and providing a longer-lasting, more enjoyable candle experience.
Fragrance Oil
To infuse our candles with delightful scents, we use premium fragrance oils. These oils are carefully selected to ensure a rich and long-lasting aroma that beautifully complements the elegant 3D bridal gown design. Our fragrance oils are safe and non-toxic, creating a delightful ambiance that enchants the senses.
Craftsmanship with Passion and Love
Each of our candles is crafted with passion and love by skilled artisans who pay meticulous attention to detail. The 3D bridal gown design is carefully handcrafted, ensuring that every candle is a work of art that captures the beauty and romance of a wedding gown.
How we can order and finish time?
As our orders are 100% make just for you, we make to order upon firm order, and please allow 7-15 business days for your order to be processed and shipped.
If you need customize your own design of packing box, we also need 1 or 2 weeks to produce after all details comnfirmed.
Also, you can choose fragrance and color, we have over 500 scents for you select.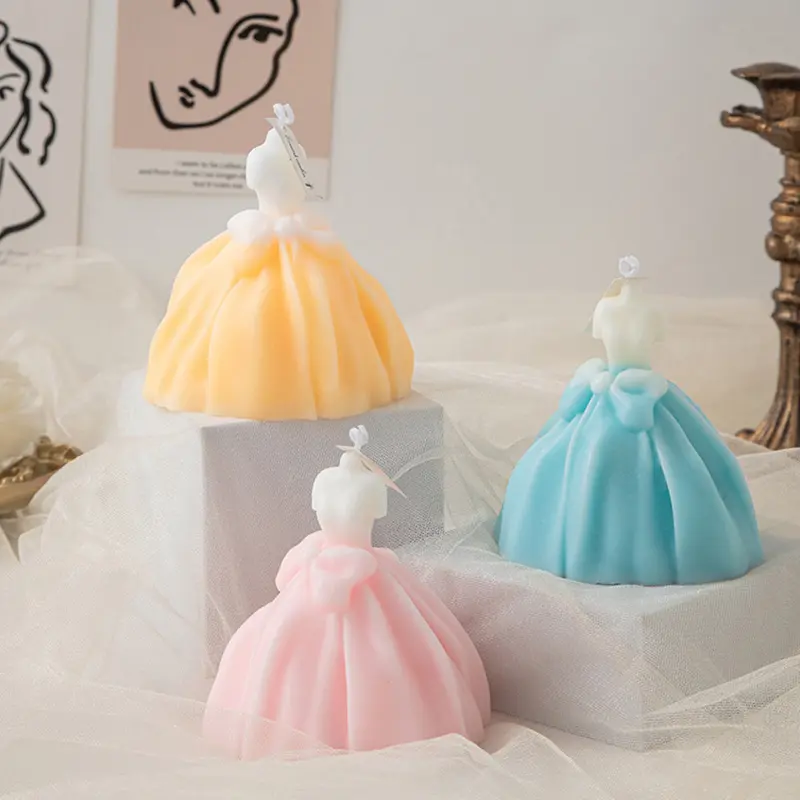 Where we can place the beautiful wedding dress candle?
This unique gown can be placed in your living room, office to bring out wonderful fragrance in the air.
Imagine the soft, sweet aroma filling your home, gently melting away the stress of your day. Sometimes it's the little things, like lighting a beautiful candle, that eases your mind and helps you unwind. Whether you want to relax on the couch with a good book or add some ambiance to a gathering, these natural soywax pillar candles are an absolute must for setting the mood.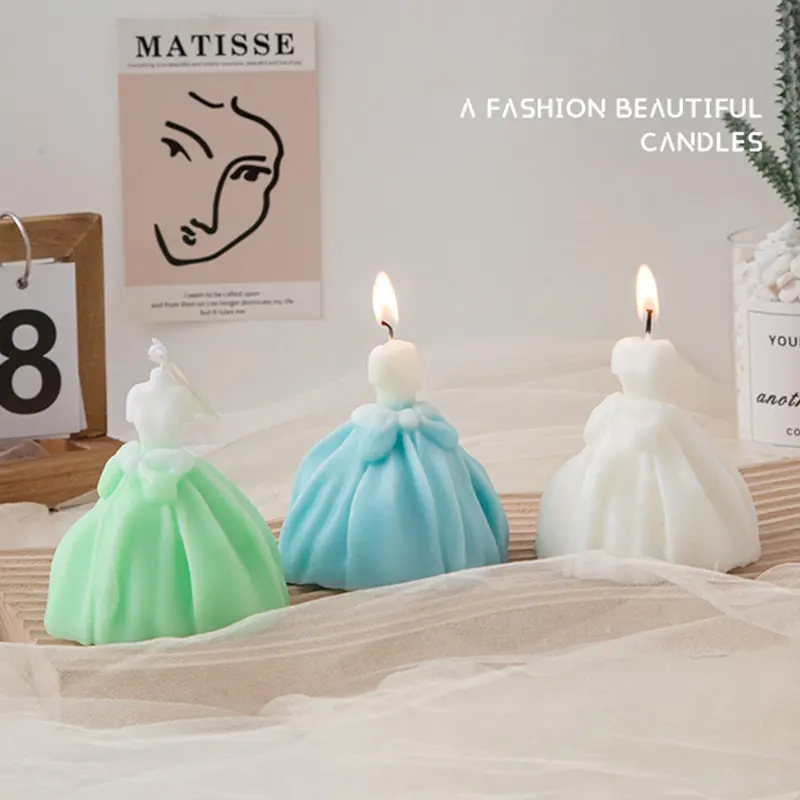 How long it will take for the delivery.

Generally speaking, if you don't need customization, our products will be packaged and shipped within a week. If you need to customize, it usually takes 30-35 days overall. The order of our mold and flavor will take nearly two weeks. Since this product is all handmade, one mold can produce about 20-25 products per day.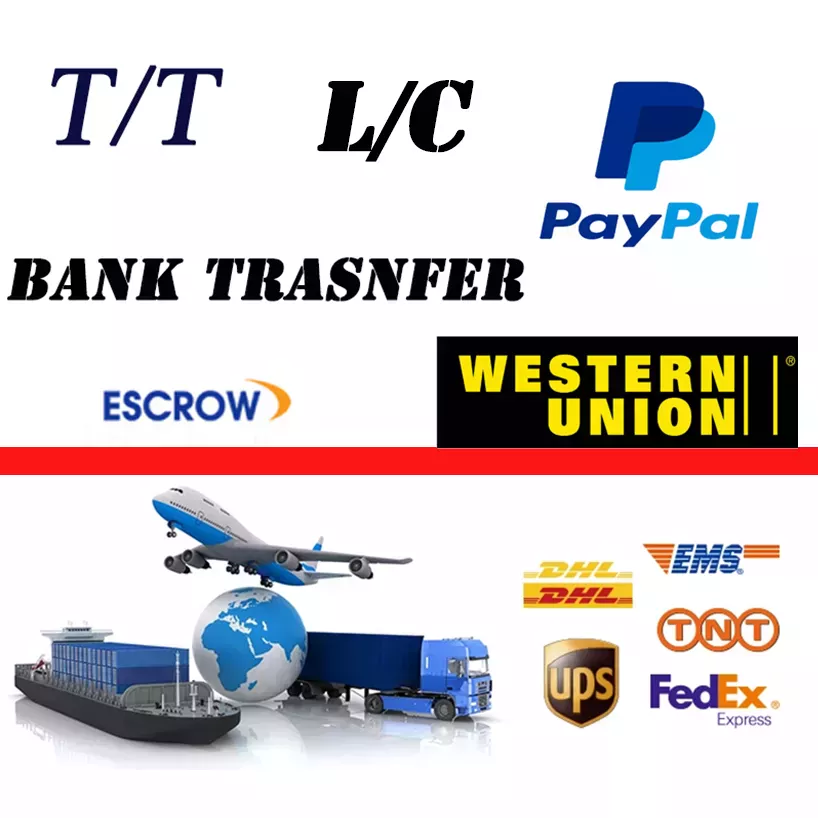 CAIFEDE FACTORY
FAQ
What makes the Special Dress Shaped Scented Candles unique for weddings?
Our Special Dress Shaped Scented Candles are specially designed to resemble elegant wedding dresses, making them a perfect and unique addition to your wedding decor. These candles add a touch of romance and charm to the celebration, creating a memorable and personalized ambiance.
What scents are available for the dress-shaped candles?
We offer a delightful selection of scents for our dress-shaped candles, including floral fragrances like rose, jasmine, and lily, as well as soft and romantic scents like vanilla and lavender. Each scent is carefully chosen to enhance the wedding atmosphere and evoke special memories for the couple and guests.
Can the dress-shaped candles be customized to match the wedding theme?
Absolutely! Our dress-shaped candles can be customized to match your wedding theme and color scheme. From choosing the candle color to adding decorative elements like ribbons or gemstones, our team can help create a truly personalized and cohesive look for your special day.
What sizes are available for the dress-shaped candles?
Our dress-shaped candles come in various sizes, allowing you to choose the one that best suits your decor and preferences. From smaller tea-light versions for table centerpieces to larger statement pieces, we offer a range of sizes to accommodate different wedding setups.
Are the dress-shaped candles safe to use at weddings?
Yes, our dress-shaped candles are crafted with safety in mind. They are made from high-quality, non-toxic materials and designed to burn cleanly and safely. Additionally, the dress-shaped candles are stable and sturdy, reducing the risk of accidental tipping or dripping during the event.
Can the dress-shaped candles be used as wedding favors or gifts?
Absolutely! Our dress-shaped candles make exquisite wedding favors or gifts for guests. They serve as a beautiful reminder of the special day and can be presented in elegant packaging to make a lasting impression on your loved ones.
Can the dress-shaped candles be used for other occasions besides weddings?
While our dress-shaped candles are specially designed for weddings, they can also be used for other romantic occasions like anniversaries, engagement parties, or bridal showers. Their unique design and delightful scents make them a charming addition to any love-filled celebration.
YOU MAY LIKE:
High quality private label scented wax candles England China supplier air freshener
Free samples provided private label wholesale aromatherapy room reed diffuser in luxury box for home fragrance
Wholesale candle company golden scented travel candle tin with personalized design and label
Customized wholesale fragrance ceramic candle oil burner with wax melt or candle
Popular custom aroma scented hanging paper cards car air freshener
150g Private label scented essential oil candles stress relief wholesale UK
Hot sale custom private label scented candles suppliers Australia wholesale
Own brand customized scented wax glass jar candle Chinese candle supplier
Own brand custom Dublin glass aromatherapy essential oil reed diffuser with private label
Private label aroma reed oil diffuser home perfume UK own brand custom
Hot sale 50ml customize aroma room reed diffuser oil China supplier