When it comes to creating an atmosphere of pure relaxation and indulgence in your spa, every detail counts. At CAIFEDE, we understand the importance of ambiance and the role it plays in enhancing your guests' experience. Our private label luxury glass jar candles with metal lids are designed to elevate the spa experience, adding a touch of opulence, tranquility, and warmth to your space.
Production Describe
Our scented candles can be packaged with any aromatherapy tools, giving you a perfect use experience. The cover is also provided to help you store it better for next use. The relief design makes you feel the luxury experience when using.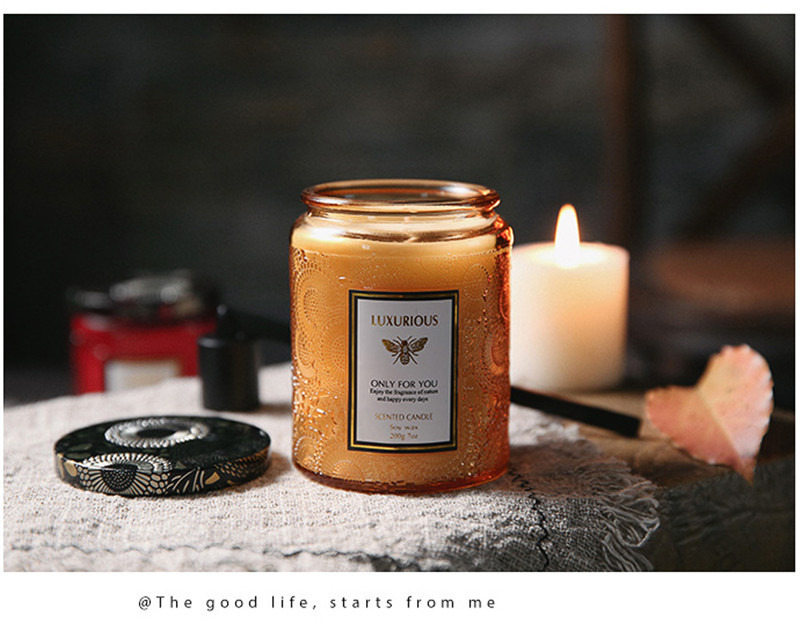 A wonderful day begins when you light our scented candles. Each scent of this candle gives you a different experience. Let you feel the feeling of being on the scene.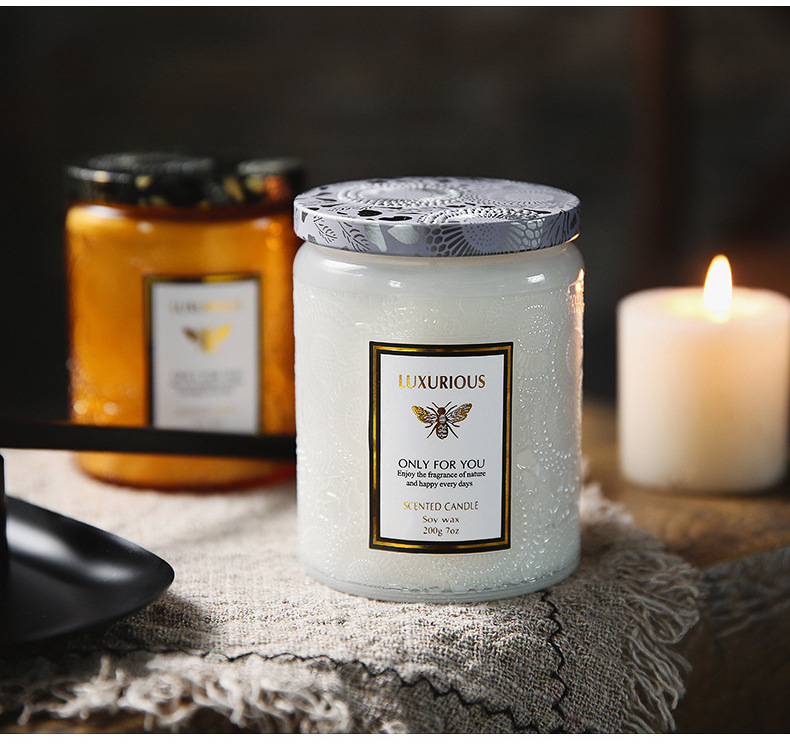 Customizable label location, you can customize any style of label you want to customize. If you are a small start-up company, we have professional designers. You can design customized ICONS according to your needs.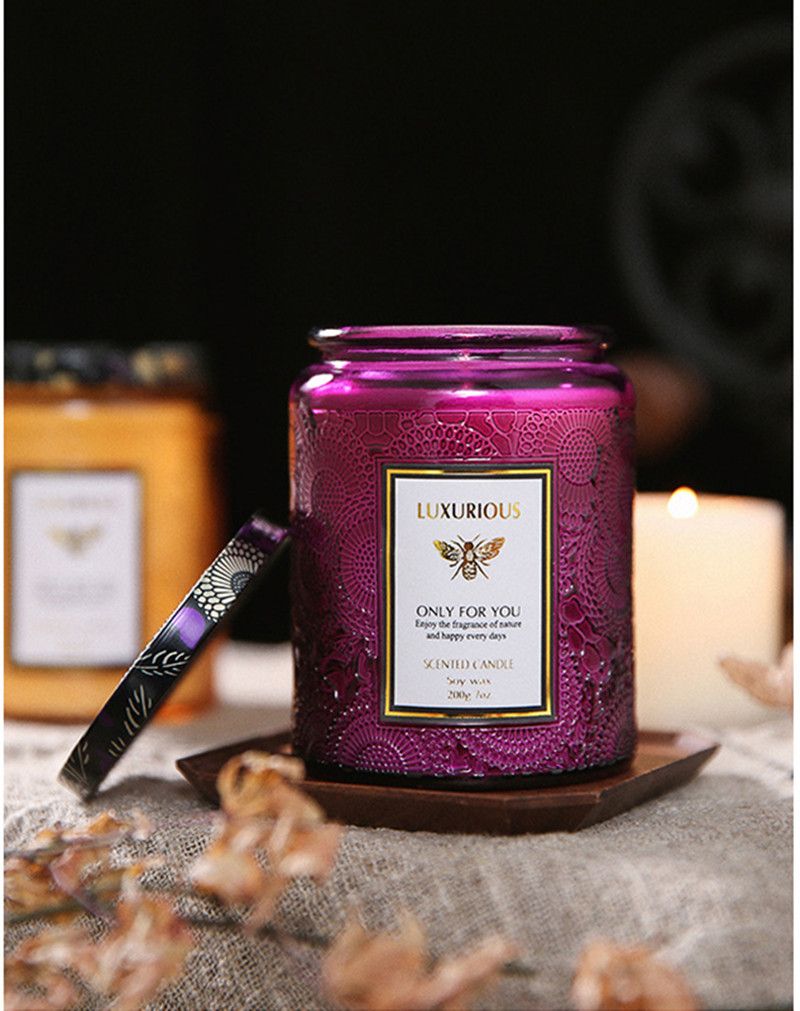 Our scented candle has up to 8 flavors to choose from. Of course, if you are not satisfied with all the current flavors and would like to have other flavors, please contact our account manager. We provide you with more unique customized services. There, you can choose any flavor you want. Please note, however, that there is a minimum order requirement for providing flavor customization.
The Elegance of Glass
Glass is a symbol of sophistication, and it's no wonder it's a preferred choice for luxury candles. Our glass jar candles are a testament to this elegance. The transparent walls of the jar allow the soft, flickering candlelight to dance gracefully within, creating a serene and inviting ambiance. Whether you're aiming for a modern, minimalist aesthetic or a more classical spa environment, our glass jar candles fit seamlessly into any decor.
Luxury Meets Functionality
What sets our glass jar candles apart is the addition of a metal lid. The metal lid not only adds a layer of refinement to the product but also serves a practical purpose. It's designed to extinguish the flame safely, eliminating the need for blowing out the candle, which can disrupt the tranquil atmosphere of your spa. The metal lid also helps to preserve the candle's fragrance when not in use, ensuring that every guest enjoys a consistent sensory experience.
Customization for Your Brand
At [Your Company Name], we understand the importance of personalization and branding. We offer private labeling options that allow you to infuse your spa's unique identity into the candles. Choose from various colors, scents, and branding styles to ensure that the candles perfectly align with your spa's theme and values. This level of customization ensures that your guests feel truly special when they encounter your unique and exclusive candle offering.
Aromatherapy at Its Best
Our glass jar candles are more than just visually stunning. They are also carefully crafted to deliver an exceptional aromatherapy experience. The scents we offer are thoughtfully selected to enhance the relaxation and rejuvenation that your spa aims to provide. From soothing lavender to revitalizing eucalyptus, we offer a range of fragrances to suit your spa's atmosphere and client preferences.
Long-Lasting Quality
Our glass jar candles are built to provide hours of enjoyment. The high-quality wax and wick construction ensure a slow, even burn, allowing your spa to maintain a consistent ambiance throughout the day. You can trust in the longevity of our candles, which means fewer replacements and more satisfied clients.
Safety and Peace of Mind
Safety is a top priority when using candles in a spa setting. Our glass jar candles are designed to be safe and reliable. The metal lid serves as a secure flame extinguisher, and the design minimizes the risk of tipping or accidents, ensuring your guests can fully relax and enjoy their spa experience without any worries.
Conclusion
In the world of spa and wellness, creating a unique and luxurious experience is paramount to attracting and retaining clients. The private label luxury glass jar candles with metal lids from CAIFEDE are the ideal choice to elevate your spa's ambiance. Their elegant design, aromatherapy benefits, and safety features make them an essential addition to your offerings. Create an atmosphere that envelops your clients in tranquility and luxury, making their spa visit an unforgettable experience. These candles are a testament to your spa's commitment to excellence and your dedication to ensuring that every guest feels pampered and relaxed.
FAQ
1. What are Glass Jar Candles with Metal Lids?
Glass Jar Candles with Metal Lids are premium candles designed for the spa environment. They come in elegant glass jars with functional metal lids, offering both aesthetics and safety.
2. Why should I consider using Glass Jar Candles with Metal Lids in my spa?
These candles add an element of sophistication and tranquility to your spa ambiance. The metal lids provide a safe way to extinguish the flame, while the glass jars allow the soft candlelight to illuminate and enhance the atmosphere.
3. Can I customize these candles with my spa's branding?
Yes, we offer private label options, allowing you to customize the candles with your spa's logo, colors, and branding for a unique and exclusive product.
4. What scents are available for the Glass Jar Candles with Metal Lids?
Our candles come in a variety of soothing and invigorating scents, including popular choices like lavender, eucalyptus, and custom blends. You can select scents that best match your spa's ambiance and client preferences.
5. How long do these candles burn?
The burn time may vary depending on the candle's size, but we prioritize quality, ensuring they burn slowly and evenly for hours of enjoyment.
6. Are these candles safe for spa use?
Yes, safety is a top priority. The metal lids are designed to safely extinguish the flame, and the candle's construction minimizes the risk of tipping. These candles are a safe choice for your spa.
7. Can the Glass Jar Candles be reused once they're burned out?
Certainly! The glass jars can be easily cleaned and repurposed for various uses within your spa or offered to your clients for their own use.
8. How can I place an order for Glass Jar Candles with Metal Lids for my spa?
To place an order or inquire about our products, including private label options, please contact our sales team. They will assist you with the ordering process and help you choose the best options for your spa.
9. Can I request a sample before making a bulk order?
Yes, we offer sample requests to help you evaluate the quality, design, and scents of our Glass Jar Candles with Metal Lids. Contact our sales team to request a sample.
10. Are there discounts for bulk orders?
We do offer pricing discounts for bulk orders. Our sales team can provide you with detailed information on pricing and volume discounts based on your spa's needs.
11. What is the minimum order quantity for private labeling?
The minimum order quantity for private labeling may vary. Please contact our sales team to discuss your specific requirements and minimum order quantities.
12. Can you provide recommendations for scents and designs that suit my spa's theme?
Absolutely! Our team can offer recommendations based on your spa's theme, clientele, and preferences, helping you select the perfect combination of scents and designs.
13. How can I contact your customer support for assistance or inquiries?
You can reach our customer support team via phone, email, or the contact information provided on our website. We are here to assist you with any questions or concerns you may have.
We hope these FAQs provide you with valuable information about our Glass Jar Candles with Metal Lids for spa use. If you have any further questions or specific inquiries, please don't hesitate to contact our dedicated team.