Tin travel candles meet Southeast Asia scent
New scented tin candle gift set for Southeast Asia countries
With over 10 years experiences of candle business, CAIFEDE has customized many gift sets for different market, this time, it's Southeast Asia turn! For the tin candle gift set, we support OEM&ODM, certifications meet Southeast Asia market, competitive price and economical shipping cost, all these showed advantages to sell to Southeast Asia countries.
Key Features of our Scented Tin Candle Gift Set
Customization Options: We offer full support for OEM (Original Equipment Manufacturer) and ODM (Original Design Manufacturer) services. You can personalize the candles with your brand logo, label design, and choose from a wide range of delightful scents to suit the preferences of your target audience.
Compliant with Southeast Asia Market: Our candles meet all necessary certifications required for the Southeast Asia market, ensuring they adhere to safety and quality standards. Rest assured that our products are safe and suitable for distribution in this region.
Competitive Pricing: We understand the importance of offering competitive pricing for businesses in the competitive Southeast Asia market. Our streamlined production processes and bulk purchasing enable us to provide cost-effective solutions without compromising on quality.
Economical Shipping: We have established strong logistics partnerships to ensure economical shipping options to Southeast Asia countries. We can handle the shipping process efficiently, making it hassle-free for you and your customers.
Wide Variety of Gift Sets: Our gift sets come in various sizes and configurations to cater to different preferences. Whether it's a set of three different scents, a collection of themed candles, or a mix of candles and other accessories, we have a variety of options to choose from.
Strong aroma are very fit for the usage habits of Southeast Asian consumers
Musk, lavender, aloes, sandalwood, rose, jasmine, etc. are normal scents for the Southeast Asian gift set. You can customize your own scent too. Besides, usually fragrance oil percent is 8% for scented candle, but for the new set, we increased to 10% or over, to match the Southeast Asia market and clients using habits.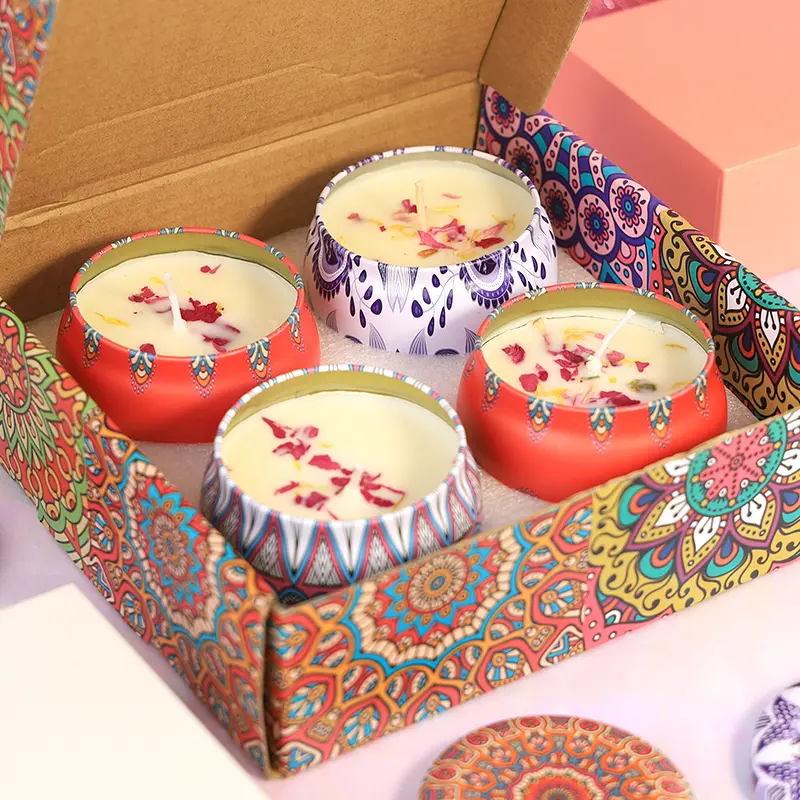 Customize tinplate gift box set for Southeast Asia
Except the scent, we support customize pattern on tin jar and gift box, just give us your draft, we can make it happen! Gorgeous pattern design will absolutely show your unique idea and creativity in Southeast Asia market. Also, usually we use EPE foam fill in the box to protect, so please take assured that, your goods are safe with us!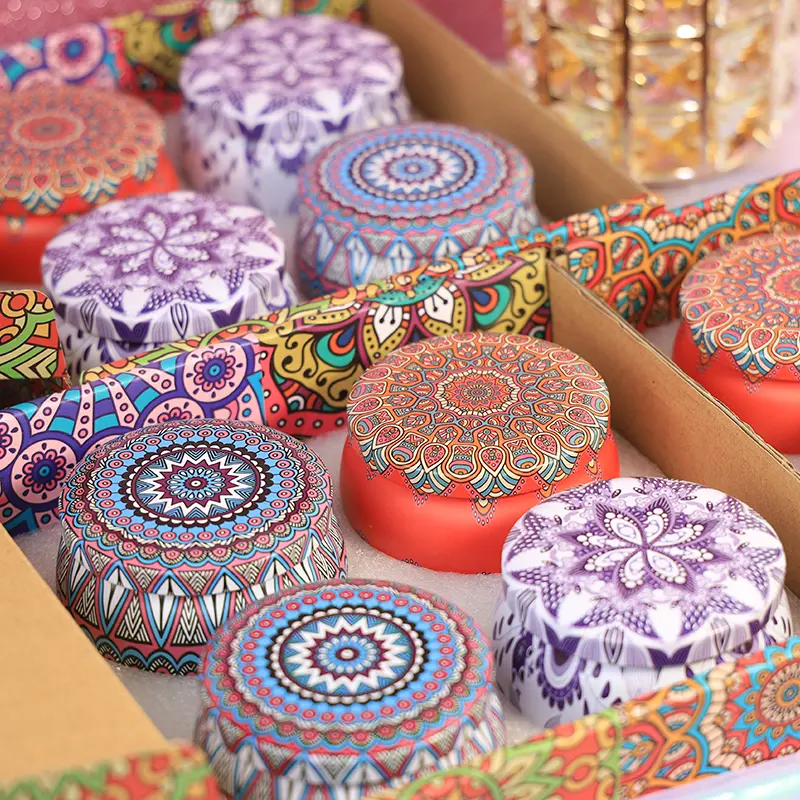 Why Choose CAIFEDE for Your Scented Tin Candle Gift Set?
Experienced Manufacturer: With over a decade of experience in the candle industry, we have perfected the art of candle making and consistently deliver high-quality products.
Premium Ingredients: We use only the finest natural waxes and carefully selected fragrance oils to create candles that offer a long-lasting and delightful aroma.
Design Expertise: Our team of skilled designers can assist you in creating eye-catching packaging and label designs that resonate with your target audience.
Excellent Customer Service: We are committed to providing excellent customer service and ensuring your satisfaction throughout the ordering and manufacturing process.
What we can support for Southeast Asia market?
More than the box and scent customization, we have very competitive price for this set. Also, shipping cost is very friendly for our business, low freight add competitive price, that's no other better choice to work with us! One more thing, we have a full set of certificates for sales to the Southeast Asian market, and a professional after-sales service team to solve any problem in the whole sell progress.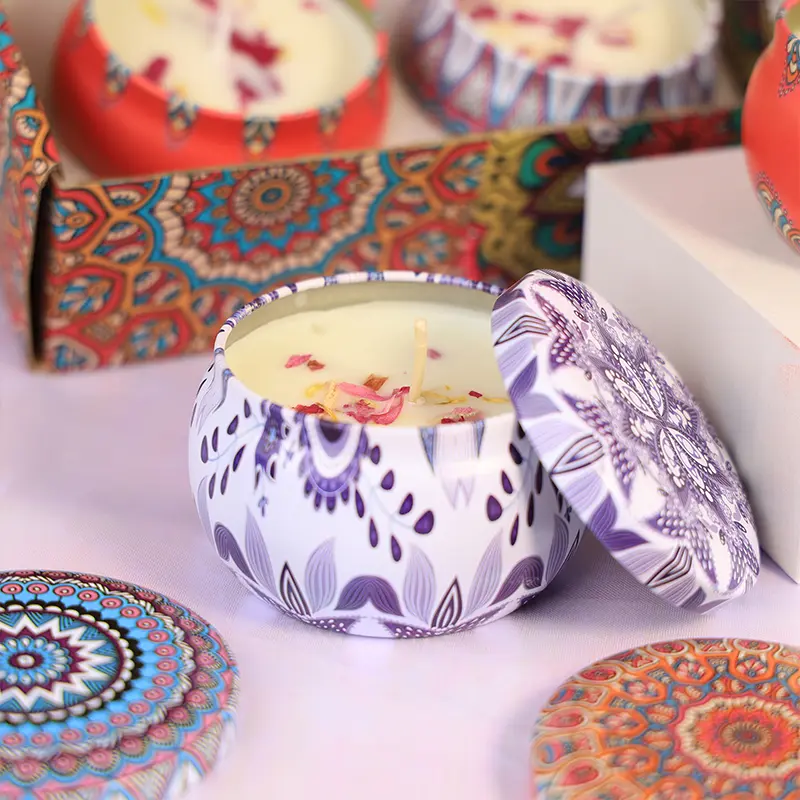 Southeast Asia new essential gift for home and travel
Gorgeous outlook and roseleaf in wax, create a romantic place and enjoyable fragrance. When at home, you will take off the fatigue and feel beauty for a moment; when travel outside, it's easy to take and arouse everyone's attention by the delicate appearance and aroma.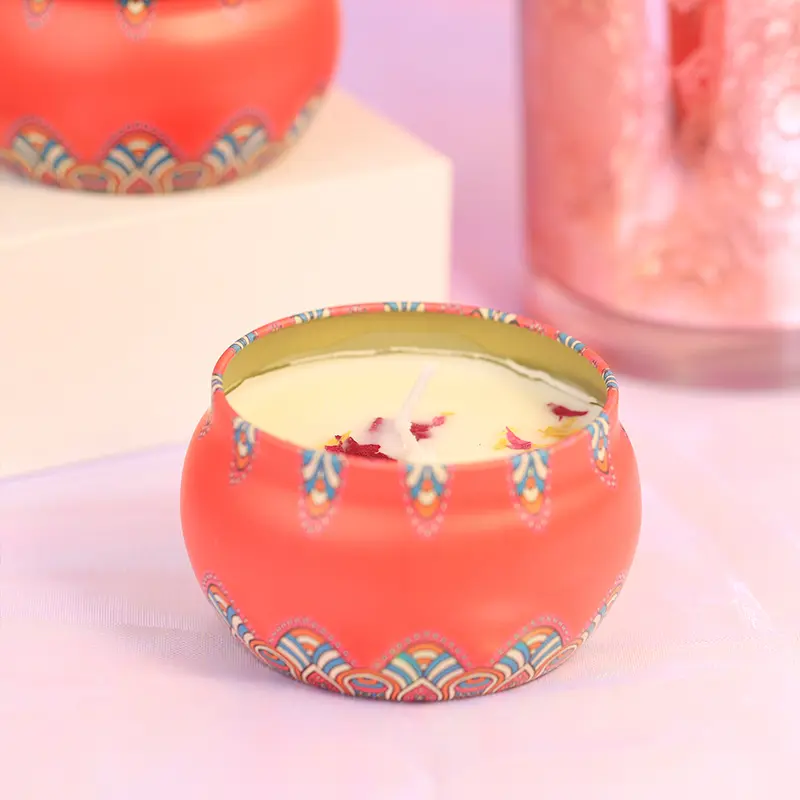 How long it will take for the delivery.

Generally speaking, if you don't need customization, our products will be packaged and shipped within a week. If you need to customize, it usually takes 30-35 days overall. The order of our mold and flavor will take nearly two weeks. Since this product is all handmade, one mold can produce about 20-25 products per day.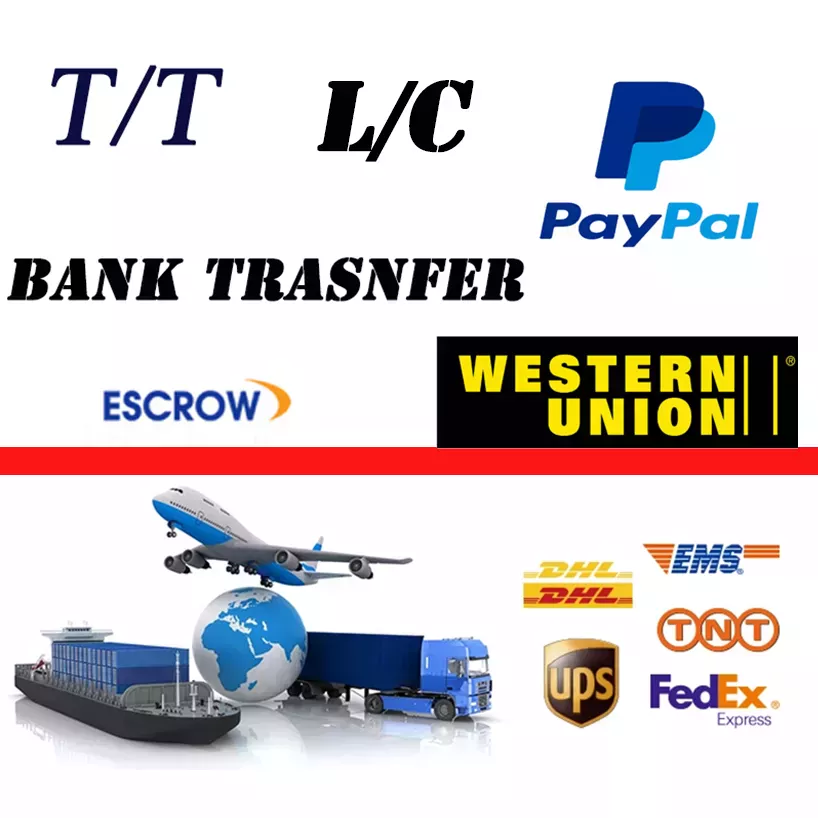 CAIFEDE FACTORY
FAQ
What are Scented Candles in Tins?
Scented candles in tins are compact and portable candles infused with delightful fragrances. They are crafted using high-quality wax and carefully selected essential oils or fragrance oils to create a pleasant aroma when lit.
What scents are available for the candles?
We offer a wide range of scents for our candles, including popular options like lavender, vanilla, citrus, floral blends, and more. Our selection may vary based on availability and customer demand, so be sure to check our website or contact customer support for the latest scent offerings.
Are these candles made from natural ingredients?
Yes, we take pride in using natural and high-quality ingredients for our scented candles. We use a blend of natural waxes, such as soy wax or beeswax, and premium essential oils to provide a clean and eco-friendly burning experience.
How long do these candles burn?
The burn time of our scented candles in tins varies depending on the size of the tin and the specific scent chosen. On average, they can burn anywhere from 15 to 30 hours, offering you hours of delightful fragrance.
Can I use these candles for aromatherapy?
Yes, our scented candles in tins can be used for aromatherapy purposes. The carefully selected essential oils in the candles can create a soothing and calming ambiance, promoting relaxation and stress relief.
Can I travel with these candles?
Absolutely! The compact and portable design of our candles in tins makes them perfect for travel. You can take them with you on trips, vacations, or even use them for a touch of comfort and familiarity during your hotel stay.
Do you offer international shipping in Southeast Asia?
Yes, we offer international shipping for our scented candles in Southeast Asia. However, please note that shipping fees and delivery times may vary depending on your specific location. Feel free to check our website or contact customer support for more information on international shipping.
Are these candles suitable for gifts?
Yes, scented candles in tins make wonderful gifts for various occasions. Whether it's a birthday, holiday, or a simple gesture of appreciation, the delightful fragrances and charming packaging make them thoughtful and versatile gifts.


Contact us now to discuss your requirements and get a quote for our Scented Tin Candle Gift Set customized for Southeast Asia countries. Let CAIFEDE be your trusted partner in delivering exceptional candles to your customers in this vibrant and diverse market!
YOU MAY LIKE:
High quality private label scented wax candles England China supplier air freshener
Free samples provided private label wholesale aromatherapy room reed diffuser in luxury box for home fragrance
Wholesale candle company golden scented travel candle tin with personalized design and label
Customized wholesale fragrance ceramic candle oil burner with wax melt or candle
Popular custom aroma scented hanging paper cards car air freshener
150g Private label scented essential oil candles stress relief wholesale UK
Hot sale custom private label scented candles suppliers Australia wholesale
Own brand customized scented wax glass jar candle Chinese candle supplier
Own brand custom Dublin glass aromatherapy essential oil reed diffuser with private label
Private label aroma reed oil diffuser home perfume UK own brand custom
Hot sale 50ml customize aroma room reed diffuser oil China supplier